IMPORTANT: Before you start you need to download Telegram App in your selected device and verify your account.
1. Start chat with Telegram Bot 🤖
Select "Start Bot" button or scan the QR code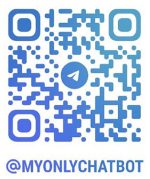 This will open a chat in Telegram
Follow the Bot instructions, it will be your friend during the process
2. Create a private Telegram channel🗣️
Once you started the chat with the Bot do this:
Press "Start" ➡️ Select the "Menu" button ➡️ Select "List of your registered channels  /mychannels" ➡️ Select "+ Register New Channel"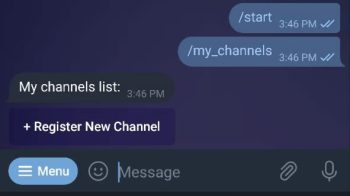 The Bot will tell you that it needs to be added as an Admin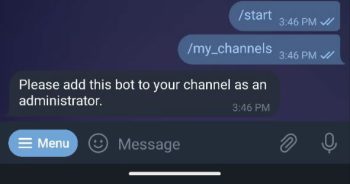 Now, let's create your private channel 
– Go to the main Telegram menu and select the pencil icon ✏️ in the right-down side
– Create "New Channel"
– Add name, picture and description for your channel
– Select type Private Channel configuration
– Add the bot by searching for "MyOnlyChatBot"
– Save it, you have created your first channel! ✔️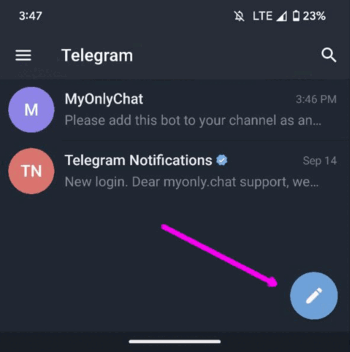 Finally, add the Bot as admin (this is important!)
– Go to your channel Settings (top of the window)
– Select the category "Administrators"
– Select "Add Admin" and add "MyOnlyChatBot"
– Provide all the Admin rights and save it ✔️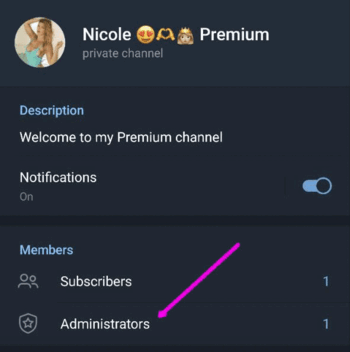 3. Register your account📝
Back to the Bot chat, it will tell you it is time to register your account
Select "Register Account" button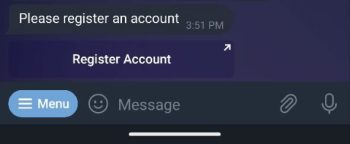 A window with a link will appear, select "Open"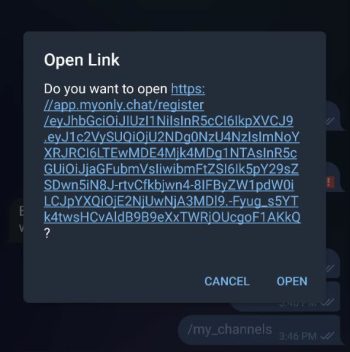 You will be redirected to a Create Your Account window
– Add your email
– Add your new password
– Select "Create Account"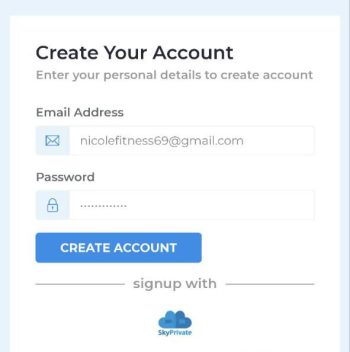 4. Verify your identity ✅
In order to withdraw your money you need to verify as in any other site. Do not worry, it is simple and fast!
If you are new, follow the next steps:
– Select to verify as "New Member"
– Add the verification code that you received via email (4 digits)
– Add your personal details
– Add your identity details and documents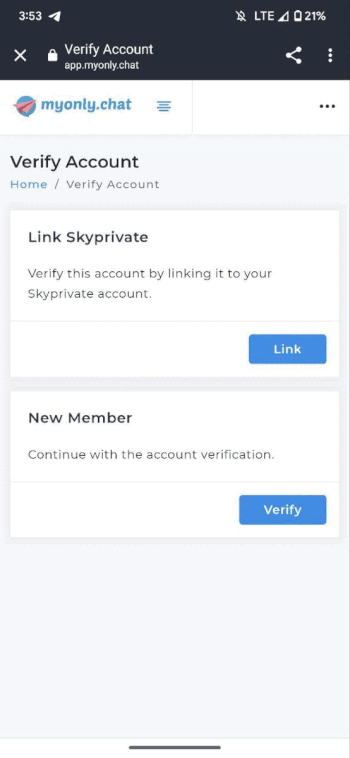 Your account will be verified by our Team in less than 24hrs ✔️
5. Review your Channel's subscription 🆗
❗Important: make sure your channel has a subscription price added, otherwise you will give free access
Before you start inviting your fans to your Premium channel, check this:
– Go to your Dashboard ➡️Channels ➡️ List
– In Subscriptions create a "New"
– Set your Subscription name, recurring period and price
– Select "Apply"
Your subscription is saven and should look like this: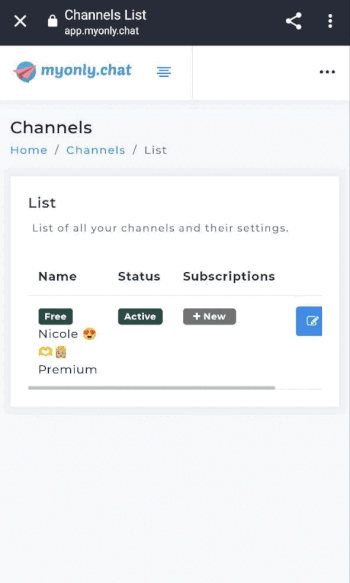 6. You are ready to sell your content! 💵
Congratulations, you have completed the registration and verification process
Time to make money!
Now all you have to do is to:
– Upload content in your Premium channel
– Share your Invite Link with your fans
You can always interact with the Bot to get your Invite Link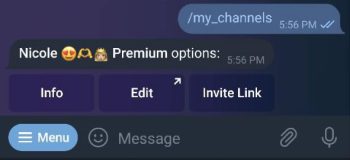 ❗Important: this is the only link that you should share with your fans in order to be credited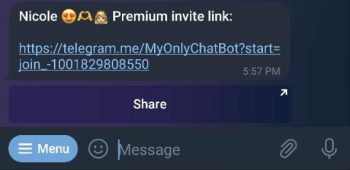 If you have any other questions please contact us: